EMBASSY OF PAKISTAN

Box 5872
102 40 STOCKHOLM
SWEDEN WebSite: www.pakistanembassy.se
E-Mail Address:

consular@pakistanembassy.se

<![if !supportLineBreakNewLine]>
<![endif]>


Karlavagen 65, 1Tr,
114 49, Stockholm
SWEDEN
Tel:8-20 33 00
Fax:8-24 92 33

Consular Work hours:
Monday to Friday 09.30-11.30
INSTRUCTIONS
NATIONAL IDENTITY CARD FOR OVERSEAS PAKISTANIS Ė NICOP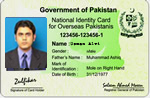 It is mandatory for all non-resident Pakistani nationals to get NICOP.

NICOP/POC Account No. 52771011948 (All the fee(s) is non-refundable).
Please deposit the fee for NICOP/POC in the above account only.

All non-resident Pakistani nationals settled abroad for a period of six months or more are eligible for NICOP.

Regarding its utility, NICOP as an identification document can be used in place of CNIC where ever required.

As such, NICOP is a basic registration requirement for all Pakistani nationals living abroad.

Holders of Dual Nationality are advised to immediately apply for their NICOP, without which their registration process in Pakistan would remain incomplete. NICOP is also necessary for future extension of the new Dual Nationality Passports issued to them.
Benefits
Holders of NICOP are entitled to:
Visa Free Entry in to Pakistan

Protection of the Government of Pakistan in any foreign country or state.

Entitlement to membership of the Overseas Pakistanis Foundation (OPF)
Documents required for NICOP
Three photocopies of previous National Identity Card/Computerized National Identity Card.

Three photocopies of Pakistani passport.

Three photocopies of Foreign passport for dual nationality holders.

Three recent colored passport size photographs.

Three photocopies of blood relative i.e (Father/Mother/Sister/Brother/Wife etc)

Completed original NICOP form, with two photocopies.
The NICOP forms are available at the Embassy or the same can be downloaded from the website: NICOP form

Original Deposit slip (with three photocopies) of the fee paid in the Embassy account given below.
Requirements for newly born babies
- The NICOP application should contain three sets of each document.
- Parents need to be registered as married with NADRA before the child can get a NICOP.
NICOP application form dully filled in (3 copies)
Fatherís and motherís Pakistani passports and NICOP/CNIC (3 copies).
Extract of the Population register (Personbevis of the child) from

Skatteverket/Maistraatti in English (3 copies).
Coloured photos of child (3copies) (Shoulders, eyes should be visible).

Form–S1, Certificate of Registration & Birth.

Original fee receipt in (3 copies)
(Can be paid in the Embassy by card or deposited in the Embassy's NICOP/POC Account

NO. 5277 10 119 48, SEB bank).



Fee for NICOP can be deposited in Swedish Kronor in the following SEB account of the Embassy:
SEB NICOP/POC Account No.: 52771011948
or Facility for making payment by Credit/Debit Card is Now available at the Embassy.
(Applicants from outside Sweden can pay their NICOP fee in Embassy's IBAN No.: SE04 5000 0000 052771011948. )
Swift Address of SEB is: ESSESESS
Completed application forms may be sent to the Embassy for transmission to NADRA.
Please note that NADRA returns any incomplete forms without consideration. Therefore take due care in completing the above mentioned formalities.
All registered mail in this connection should be sent to Embassy's post box address:
EMBASSY OF PAKISTAN
Box 5872,
102 40, STOCKHOLM
Cards are expected to be delivered within 3-6 months of the receipt of application in the Embassy.
Incomplete forms will not be accepted.
NICOP for children, below 18 years of age, of dual nationality holders shall be valid till the age of 18.
However if the applicant wants to have his/her fresh photograph, he/she can do so by paying the prescribed fee.
Telephone enquires about any important matter concerning consular cases are entertained only between 1430 to 1700 hrs.
(For further details on NICOP, please visit the website http://www.nadra.gov.pk)
Last updated on: 24 April 2014